PREVIOUS SCREENINGS 2014-CURRENT
NIKE HEADQUARTERS (Employee screening), November 30, 2018.
Check Employee Website for more details.
Gateway Film Festival at Pacific University October 12-13.
Pacific University
Forest Grove, OR 97116
The Old Church Church Concert Hall September 12, 2017, 7pm. (Open to the Public).
Click link to reserve FREE tickets:We Can Listen Series
1422 SW 11th Ave
Portland, OR 97201
Tonkon Torp September 25, 2017 (Employees only).
888 SW 5th Ave
Portland, OR 97204
Central Catholic High School October 9, 2017. 7pm (Open to Public).
2401 SE Stark St
Portland, OR 97214
Valley Catholic November 6, 2017, 6pm. (Open to Public).
4275 SW 148th Ave
Beaverton, OR 97078
Seattle Prep High School November 13, 2017, Time TBA. (Open to Public).
2400 11th Ave E
Seattle, WA 98102
Edmonds School District December 1, 2017. Time 6pm. (Open to Public).
Lynnwood, WA 98036
Oregon City School District Assembly of Teachers and Principals. August 31, 2016. (Faculty, Admin, Staff only).
Teacher In-Service session. (Invite Only) October 14, 2016.
Central Catholic
2401 SE Stark St
Portland, OR 97214
Travel Portland Community screening. November 2, 2016. 4pm. (Employees).
Pioneer Courthouse Square
701 SW Sixth Avenue
Portland, OR 97205
Ignatian Family Teach-In For Justice 2016 November 13, 2016. 10:50am. (Registered attendees only).
Crystal City Gateway Marriott
1700 Jefferson Davis Highway
Arlington, VA 22202
Lakeridge High School District screening November 22, 2016. 8am. (District Teachers Only).
1235 Overlook Dr
Lake Oswego, OR 97034
Marylhurst University November 30, 2016. 5pm.
17600 Pacific Highway
Marylhurst, OR 97036
Jesuit High School Pub Theology February 6, 2017. 7:00pm (Open to Public).
Old Market Pub
6959 SW Multnomah Blvd
Portland, OR 97223
Catlin Gabel Diversity Conference February 22, 2017. 8am. (School invite).
8825 SW Barnes Rd
Portland, OR 97225
University of Puget Sound and Bellermine Prep Seattle March 3, 2017. 4pm. (Open to Public).
1500 N Warner St, Tacoma
WA, 98416
University of Oregon April 13-14, 2017. (Open to Public).
April 13 5:30pm Lillis Hall.
April 14 3:30pm McKenzie Hall.
1585 E 13th Ave
Eugene, OR 97403
Oregon City Library April 20, 2017 4pm. (Open to Public).
606 John Adams St
Oregon City, OR 97045
St. Andrew Nativity Faculty Screening May 11, 2017. (Closed).
4925 NE 9th Ave
Portland, OR 97211
West Linn High School May 25, 2017. (Open to Public).
5464 W A St
West Linn, OR 97068
NW Housing Alternatives June 27, 2017. Employee screening (Closed).
2316 SE Willard
Street Milwaukie OR 97222
Beaverton School District January 12, 2016. 6pm (Open to Public).
Arts and Communication Magnet Academy Auditorium
Northwest Library February 9, 2016, 5pm. (Open to Public).
RACE TALKS February 9, 2016. (Open to the Public).
Tualatin High School February 25th, 2016, Time: 6pm. (Open to Public).
Wells Fargo Employee screening event February 22, 2016. (Employees).
Oregon Historical Society
Girls Inc. Power of the Purse event. March 4, 2016.
With extensive media coverage and notable "Purse-o-nality" participants over the past ten years, Power of the Purse has positioned itself as one of the most innovative and talked about events in our community. It has raised more than $1.5 million in net revenue to support Girls Inc. programming.
Melissa Lowery an Honored Purse-o-nality.
Portland, OR
World Muse Conference. March 5, 2016.
World Muse inspires women to create positive social change from within. Our mission is to connect women to their own inner awesome and offer tools and support for putting it into action.
Melissa Lowery Honored Presenter.
Bend, OR
Official Selection at the Nevada Women's Film Festival
The 2nd Annual Nevada Women's Film Festival returns to Las Vegas March 4-6, 2016, in honor of Women's History Month.
Claremont Colleges March 21, 2016. 6pm. (Open to Public).
Official Selection at the African American Women in Cinema Film Festival March 24, 2016. 3:40pm.
Willamette University Feminist Film Series April 1, 2016. Time TBA (Open to Public).
White History Month Project sponsored by Portland Community College
April 22, 2016. 6pm-8pm (Open to Public).
Multiple Perspectives: An Interracial Dialogue. April 27, 2016. 5:30pm (Open to Public). Screening of Black Girl In Suburbia and interactive community dialogue.
NW Natural Gas May 7, 2016 Time 3pm. (Open to Public).
Salem Library
Melissa Lowery will be part of the Nothing Real Can Be Threatened: "Lemonade" screening and panel Tuesday May 24, 2016, 6pm.
YWCA Clark County Social Change Film Festival
May 19, 2016. 6pm-9pm. (Open to Public).
St. Andrews Presbyterian Church May 26, 2016. Time 7pm. (Open to Public).
Black Girl In Suburbia screening June 16, 2016. 12:30pm-2:30pm. Open to Public, seating is limited email engage@voxsiren.com.
Produced By Her – A Summer Girls Documentary Program
Presented by Vox Siren, Girls Inc, NW Documentary, Metro, Cycle Oregon and RACC
Official Selection The 18th annual Roxbury International Film Festival June 22 – July 1, 2016.
Gresham/Barlow School District Conference. Melissa Lowery Keynote (9/2/15)
Gresham High School Auditorium (9/3/15)
2015 POWMonthly Series (9/28/15)
Jesuit High School (10/4/15)
WinterHaven Portland Public Schools (10/15/15)
Urban League/SOBO, YWCA Presents (11/15)
St. Louis International Film Festival (11/4/15)
International Black Women's Film Festival (12/7/15)
Human Solutions (7/9/15)
Spelman College (3/21/15) Toni Cade Bambara Scholar-Activist Annual Conference
Multnomah County JDH (3/26/15)
WestLinn School District Equity Team (4/14/15)
Chemeketa Community College (Open to Public) (4/16/15)
Oregon Leadership Network Spring Institute 2015 (4/21/15)
Hillsboro School District Screening (Open to Public) (4/23/15)
Shute Park Library (Open to Public) (5/2/15)
Oregon Educator Preparation Programs event (5/7/15)
NW Natural Gas Diversity and Inclusion Council (Open to Public) (5/21/15)
Centennial High School (Open to Public) (5/26/15)
Wilson High School. (Open to Public) (5/29/15)
Portland Public Schools Focus on Diversity, Film and Lecture series (Open to Public) (6/4/15)
Portland Community Colleges (ALL 4 Campuses)
Portland Black Film Festival Hollywood Theater
Washington County City of Hillsboro
University of Portland
Sheldon High School Courageous Conversations
Lewis and Clark College (OPEN TO PUBLIC) (2/13/15)
Pacific University (OPEN TO PUBLIC) (2/10/15)
Beaverton City Library (OPEN TO PUBLIC) (2/7/15)
Milwaukie High School (Open to Clackamas School District) (1/27/15)
Clackamas Highschool (school district teachers) (8/20/14)
N. Portland Library open to Public (9/12/14)
Hillsdale Library open to Public (9/28/14)
Hillsboro Library open to Public (10/5/14)
Jesuit Highschool Administration (10/13/14)
St. Johns Library open to Public (10/18/14)
West Linn Lutheran Church open to Public (10/19/14)
Jesuit Highschool 100 Faculty, Admin, & Program Directors (10/28/14)
Midland Library open to Public (10/29/14)
KairosPDX Early Learning Education (Faculty Only, 11/7/14)
Childroots Art-and-Science based learning community (Faculty Only, 11/11/14)
City of Hillsboro Lecture Series (City Employee's only, 11/18/14)
Sheldon Highschool (Faculty only 12/1/14)
Edison High School (Faculty only 12/4/14)
City Of Hillsboro Parks and Rec Administration (1/6/15)
4/15/14
BLACK GIRL IN SUBURBIA PREMIERE RELEASE DATE JUNE 7TH 2014.
7/2/13
Lifestyle Blog, Black Girl Nerds will be interviewing Director Melissa Lowery about BGS July 14th at 4pm EST. Please tune in and call to join the conversation!! Black Girl Nerd Interview.
12/10/12
UPDATE: We continue our progress and we are close to finishing up our final base edit! Woohoo! Every aspect of this film is being worked on and the process as you've seen is long and takes much time, but we can't wait to pull it all together and share it with you! We realize on this journey that this film is very important and needed in communities around the country, particularly for young people and educators. So it is imperative that we put the time into each aspect and make sure the film is a completed, eye opening piece of film work. Thank you for your support!
11/21/12
We will have our nose in the grind this month as we finish with our FINAL base edit! Woohoo! After that we will be adding small special efx details, rotoscope and tech aspects. What a process!! 🙂 We will keep you posted as we continue to move forward!
10/04/12
Update!! Even though we have much work ahead and hit a few bumps in the road, we are progressing with our edits and our story is beginning to shine! I am very excited about this!!
I am also excited to have been invited to Portland's Jesuit High school African American Summit, which they are hosting for all West Coast Jesuit Schools' this year! I get to share BGS with 150 students and several teachers and faculty from all over and START A DIALOGUE!! This is a huge opportunity for discussion among young people and I can't wait! Once I'm finished I get to join the students and have the pleasure of listening to phenomenal motivational speaker, Keith Hawkins! Monday (10/8/12) is gonna be a great day!
8/30/2012
Here's where we are: The animation pieces are still a work in progress, but are coming along. And in true Filmmaking fashion, there are a few hitches in the process that require necessary extra shoots and RE-shoots, just to make sure everything that goes into the film, is just right!! This process has been a life changing and learning experience for me and the Crew, but we are so grateful for the opportunity!
With every cut of Black Girl In Suburbia, I am excited to see the film develop into a voice for young Black girls in Suburbia as well as our insight into diversity in the school system. More importantly I am excited for our supporters to see what we have accomplished!
At this point we will not be putting a set release date on BGS even though we we're hoping for a Fall release. Right now our goal is to keep progressing with our edits and animation, and finish with the idea and intended film in mind.
Thank you again for your support! Go BGS community!
7/16/2012
Melissa Lowery will be speaking at David Douglas School district's BSU summer camp Monday, discussing BGS and creating a dialogue! This is their first Black Student Union and Summer camp, great things happening in the Portland area!
6/7/12 Rotoscope Image Example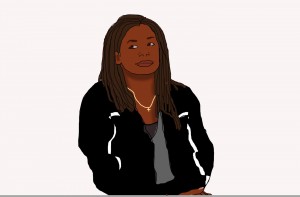 Check it out! This is an example of the type of Rotoscope animation we will be using to show a specific experience given by some of the women in the film. Really exciting stuff! Tedious, but exciting!
5/18/12
Melissa Lowery will be on 90 AM WURD with Dr. Richard Cooper Friday 5/18/12 at 1:45pm PST, or 4:45pm EST! Please tune in and join in the conversation! http://900amwurd.com/index.php?page=home
4/12/12
Woohoo! NPR has aired the interview Melissa Lowery did with Dick Gordon! To listen to the interview go to http://thestory.org/archive/The_Story_41112.mp3/view. The segment is the last 20-30 minutes of the program. Let us know your thoughts!
2/14/12
Melissa Lowery will be speaking at Oregon's David Douglas school district's, African American Family Night Thursday evening (2/16)! This is another great opportunity to open up the dialogue about the issues surrounding BGS! Really exciting, this is going to be a great event!
1/24/12
The interview on http://thestory.org was amazing! Unfortunately the show was not live if some of you tuned in, but will air in a few weeks. Please stay tuned, and we'll post the air date as soon as we can! Thanks for you support 🙂
1/11/12
Melissa Lowery will be on NPR's radio program The Story with Dick Gordon, on January 23rd at 10:45am! We are really excited about this interview so please mark your calender and tune in Thestory.org Thanks!
8/23/11
Melissa Lowery will be on Voice's From The Edge, a radio talk show on KBOO 90.7FM Thursday September 1, 2011 from 8am-9am. She will be discussing Black Girl In Suburbia and other topics related to African Americans experiences living in a city like Portland. Please tune in at Kboo.fm!
New Update!! 10/26/11
Please note that our email has been updated and we are now able to receive your emails! So please contact us with questions, comments or just to say hi! Thank you.
10/28/11
Melissa Lowery will be discussing her project on Karamu with Dr. Richard Cooper https://www.facebook.com/Dr.RichardMCooper Friday November 4, 2011 from 8- 8:30 PM Eastern Standard Time.
Please tune in 900amwurd.com click on listen live!
New Update!! 11/17/11
We are seeking funding as we go into our last phase of production! If you were not able to donate to our Kickstarter project and would like to be a BGS contributor, or would like to donate again, please go to our Donate page and click on the link. Every little bit helps as we work on bringing to life new perspective, experiences and awareness! With a donation of $50 or more, your name will be featured in our credits under Donors. Thank you so much for your support!